Big Chungus is the Biggest Brain most wholesome meme of all time. Big Chungus is so freaking sexy and hilarious. Funniest shit I've ever seen.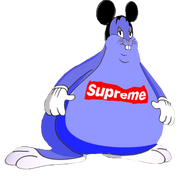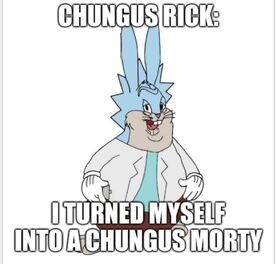 Big Chungus is a very wholesome meme. He loves to shit and poop and take craps all over the place. I think he overdosed on laxitives as a children. 
His only friends are Ugandan Knuckles and Crash Bandicoot (He like to say Waaoh). It might seem sad but Chungus dont need anyone else because woah ooh ooh yeahhh we da dcool meme tmea yeah wooahhhhh oyooahhh yeah we da cool memateam
Also I Think big chungus has lot of clum. liek cum. so much. like. OMG! FILLED UR MUM! LOL TROLLED GO TO TACO BELL AND HE LIKE 
PHRRRTTT BRAAAPPPPP MAKIN DA TACO MEAT!
NOM NOM NOM NOM! YUMMY YUM

Big Chungus's arch enemy is Big Blungus, a famous raper. He loves to rappe. Here is an example of Big Blungus rappe. "Yo mama uh uh yeah she so fat uh uh that her butt sit on my face an duh uh it smell good.:" I cant believe he would insult my mom.
Big Chungus has a confirmed IQ of 5000. He watches rick and morty. He thinks its very funny and it make him go big brain time. Also big PP. very big. IT'S like. "NICE COCK." But his alway bigger.
Also morty is a faggot 
Ok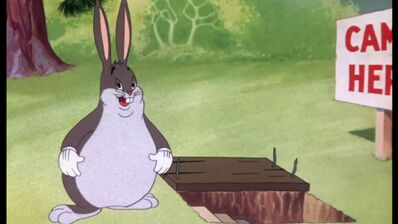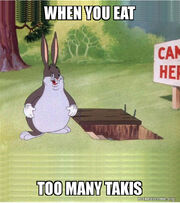 BIg CHUNGUS origin. He come out of hole (FROM UNDERTALE? It just theory much chungus lore is unknown. Not efven Waluigi the time lord know. sorry guy. I look into it more maybe even hire matpat to solve chungus lore.)

Big Chungus do his favorite thing. HE love TO fart and shit and poop and crap and PPHRRRTT BRAAAPP. I have severe depression and every single second is agony. I'm so sorry. Please. 
Big chungus loves to eat takis and they make him go DING DING DING HUMINA HUMINA HUMINA WOOOAH DING DONG DING DONG EE-AWWW  EE-AAWWWW WOAOHAOHAOEHO *MOATERBOATS UR MOMS ASS* WOWWIE ZOEEI! OOOOOOOOOOHHHHHHHHH FROZEN TREAT WITH AL ALL NEW TATES AND HE CAME FROM A PLANET FRO MOUTSER SPACE! A REFUSGE FROM AN INTERSTELLAR WAR AND NOW HE AT UR LOACL GOWOCXERY STORE! CHUNGUS TAKIS ! A PTER FOR UR TUMMY.
Community content is available under
CC-BY-SA
unless otherwise noted.